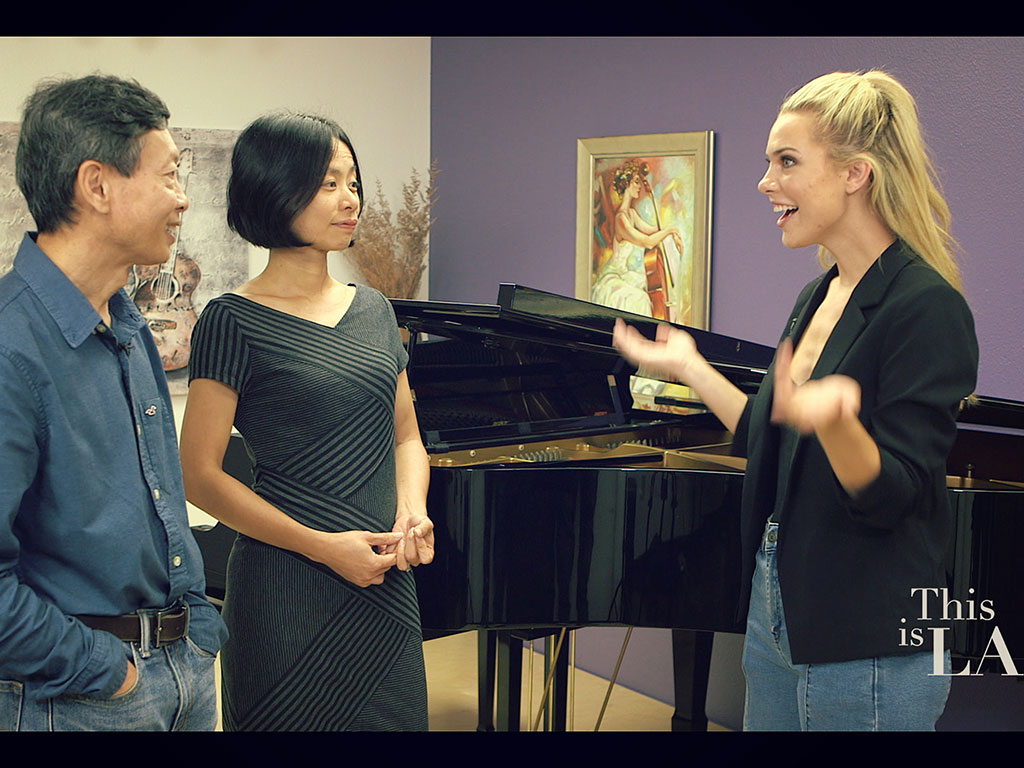 OC Musica's owners are featured on CBS2, "This is LA" EP 319. "This is LA" is Circle 8 Production's newest lifestyle television show that features the hottest new local businesses, restaurants, trends, products, and weekend getaways. The program will provide an inside look into the fast paced and ever changing landscape of Southern California, with an emphasis on what's trending in the area's lifestyle leader, Los Angeles.
For us, OC Musica is the realization of a dream. One of love, joy, dedication and passionate living.
Beyond skillful and dedicated teaching, which is required for effective learning, we aim for every child to discover the joy of self expression through music and dance. We believe every single joyful, happy and loving child helps make the community, and the world we live in, better. But, to the adults in our space, so that you don't feel left out, let's all be childlike with our dreams and learning.
We strive to create the most welcoming, positive, and supportive environment so that every student will come through our doors with eagerness and leave with light joyful steps.
What we value most from our team of dedicated teachers, more than the qualifications and collective sum of teaching experience, is that we all share the same belief, have the same passion for teaching the arts of music and dance as a means for personal development.
We are proud to be the first school in the area to offer both professional dance and music programs under the same roof, as we believe both are the highest form of arts and the strongest form of self expression.
Come join us in the OC Musica family. Let's make music and dance!
Meet the owners
Mai and her husband, Cuong, share the love of performing arts. They want to foster the love and enjoyment of music & dance in the community. It is her wish that every student has access to quality music & dance education and performing opportunities.

Mai holds a PhD in computer science from École Centrale Paris. Although she has a strong background in information technology and software development, she now finds herself completely absorbed in her new passion. She is keen to offer assistance to others in any way she could. When she is not busy sipping coffee, she enjoys decorating the school, and supporting OC Musica's wonderful teachers in creating a happy environment for students to develop their full potential.

"The journey begins with a dream and becomes an adventure"
---
Graduated with a Bachelor in Music with Honors from New Zealand, winner of the Yoshiro Irino memorial price in composition (1984), having received the gift of music as a young adult through charities, and earned his music lessons by doing gardening work, Cuong is now passionate about music education, developing young talents, looking to music not just for the joy that it brings but also using it as a vehicle for personal development.
---
Virtual Tour of OC Musica
2 dance studios with professional floating dance floors, 10-foot ceilings
2 change rooms
Soundproof classrooms for music lessons
Top-of-the-line upright and grand pianos (Yamaha, Kawai)
Comfortable waiting area for parents and siblings with free Wi-Fi
Easy drop off/pick up
Books available for purchase, for your convenience
When you enroll at OC Musica, you open the door to many membership benefits beyond the lesson room, including:
One time registration fee

Most other schools charge registration fee every year! We don't! You only pay registration fee once when you first sign-up and don't pay it again as long as you remain a student.

No long term contract

Our tuition is paid monthly - You can withdraw at anytime with just 14 days notice, or switch teacher if you feel like trying a different teaching style or a different instrument.

Music and Dance programs at one location

OC Musica offers dance and music lessons for all ages. With this combination you can schedule a music lesson right before or after your dance class with zero commute time. Musician in training but never danced before? Our friendly and encouraging dance instructors create the perfect, non-intimidating atmosphere for you to try out a style of dance!

Professional floating dance floors

Dance is a very physical activity that requires a lot of turning, leaping, and jumping, which can put stress on bones and joints. Most dance footwear does not provide any cushioning or support, so the shock of dance movements can place a lot of pressure on the knees and back of a dancer. The best way to prevent against potential injury is by choosing a studio with a professional "floating floor". A floating floor is a dance floor that rests on a system of high-density foam, to absorb the shock of jumping.

The top layer of the dance floor is also an important factor. A vinyl composite "marley" floor is accepted worldwide as the best surface layer for recreational to professional dance. A marley floor allows dancers to slide, with a degree of "controlled slip", but is not slippery so there is less risk of slips and falls. Very few studios use professional marley floors because of the expense involved, and usually opt for a regular floor tile for a studio floor.

Our studio's floating floors are built with two layers of plywood over thousands of high density foam blocks and finished with a professional marley dance surface. This type of floor is known to helps reduce the risk of injuries and allow students to dance longer without getting tired.

Soundproof facility

We are very serious about creating an environment that is appropriate and suited to learning music. In an ideal music practice or lesson room there should be no other sound heard outside of that produced by the student or teacher in the room. Excessive noise coming from the hall way or from other music rooms can be distractive and make even very well planned lessons less effective. We have taken serious soundproofing measures in the construction of our private class rooms - yes, to keep them 'private'.

Opportunities to join a professionally coached orchestra at no extra cost
Many opportunities to perform

Six recitals per year, including two annual recitals at a big theater.

A flexible and generous approach to lesson make-ups

Most other schools don't allow any private lesson rescheduling. We do our best to accommodate your busy schedule and offer reasonable rescheduling of private lessons with your teacher or a substitute.

Discounts on tuition fee for family members

When you enroll more than one person in your family in our private music lessons, 10% discount will be applied to the lowest priced tuition fee. This family discount will be applied to each additional sibling that registers.

and much more!
Testimonials
What are they saying

Dr. S. Ama Wray
Professor of Dance at the University of California, Irvine
This is a fantastic new center for the performing arts in Orange County. There is a wonderful atmosphere and true understanding of the significance of music and dance education. Bravo!

Lauren Etter
Dance Teacher
OC Musica is a beautiful space. Cuong and Mai put their hearts into its creation, and their love for and support of their community is evident from the moment you arrive. I am grateful to have been able to spend some time there recently when they hosted a training I'm participating in. Thank you Cuong and Mai!

Miguel Valdez
Adult student
I'm an adult taking music lessons which can be quite challenging given my busy schedule with work and life in general. The team at OC Musica has done a fantastic job of making my experience of booking and paying for lessons very simple. I've been there and the installations are nice, what I've seen is that there's a dance studio and then there's several practice rooms, each with a piano and lectern.

Kurt V.
Parent
I have been bringing my 2 daughters to OC Musica for their piano lessons since August 2022. When they started they were only ages 4 and 6. Prior to lessons, my children have never touched a piano. Mr. Cuong is the teacher for both of them and I have to say that I am impressed about his ability to keep my kids engaged during their sessions. He is so patient and his passion for teaching really shows during the lessons. I am so proud of my kids to catch on quickly, but I am also grateful for the attention to detail of these new skills that Mr. Cuong instills in them.
Now into their 6th month and my kids went from not ever touching a piano to being able to play and read notes. As they progress, the difficulty of the music may get more challenging but Mr. Cuong makes it a fun session for them while they learn. I highly recommend OC Musica.