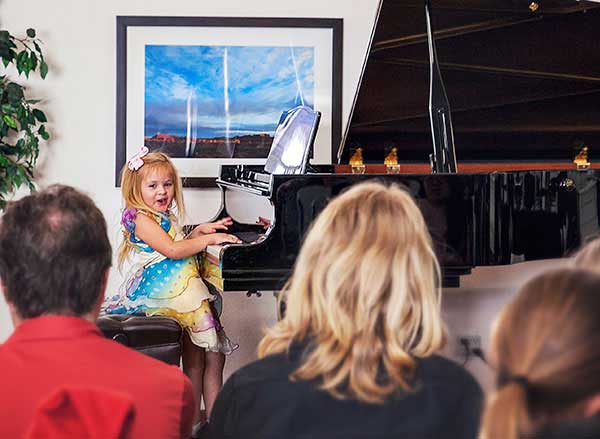 Our piano teachers have experiece teaching from very young students up to retired adults, and they teach a variety of styles from classical to popular music. Whatever your favorite style of music, our teachers are happy to help you become the pianist you want to be. You will learn the correct technique, how to memorize music, fundamental music theory, and sight reading. You do not have to have a piano at home to take lessons. A simple full size electronic keyboard will suffice for the first 6 months. If you consider buying your first piano, here's a guide to get you started.
Our piano teachers have warm personalities and enjoy sharing their love for the piano with you.
Free introductory piano lesson & evaluation Book Now!
Performing opportunities at the Recitals held at our school (which are free!) throughout the year and at other events
Ongoing enrollment - stop by anytime
Flexible hours to accommodate your busy schedule
Piano lessons tailored to meet the individual needs of students
Professional musicians providing quality education
Frequently asked questions
Performance opportunities
Recitals boost confidence! Taking part in a recital helps performers to overcome shyness, fear, anxiety and stage fright. It gives students a chance to showcase all of their hard work, dedication, and progress throughout the year. As children experience getting on stage, performing for an audience, and being applauded for their efforts, they gain self-confidence that will carry with them in all aspects of school and life.
We offer a variety of opportunities for our students to perform in a confidence-boosting and supportive setting. We have many recitals every year, our two Annual Recital in the Summer and a Winter Recital at the end of the year to showcase our students' progress. Students will also receive a trophy at the annual recital.
In addition to annual recitals held at an outside venue, we regularly host mini-recitals at Recital Hall of the school. This will give our students many more performance opportunities throughout the year. We always make sure that students get to perform on a grand piano. For our students these recitals are free.
Please check this page for performance videos.
Refer a Friend and Get Rewards!
We love referrals! Because we have such happy customers, we get a lot of new students through referrals. Getting your child's friends involved with the program lets them share in similar interests and makes it all that more fun. Or maybe you have friends with children that love music and may want to start learning an instrument? Either way, each time someone you refer signs up, both you and them will enjoy one free class! There is no limit to how many you can refer - the more the merrier!
We believe music lessons should be inspiring, social, supportive, and above all: FUN!