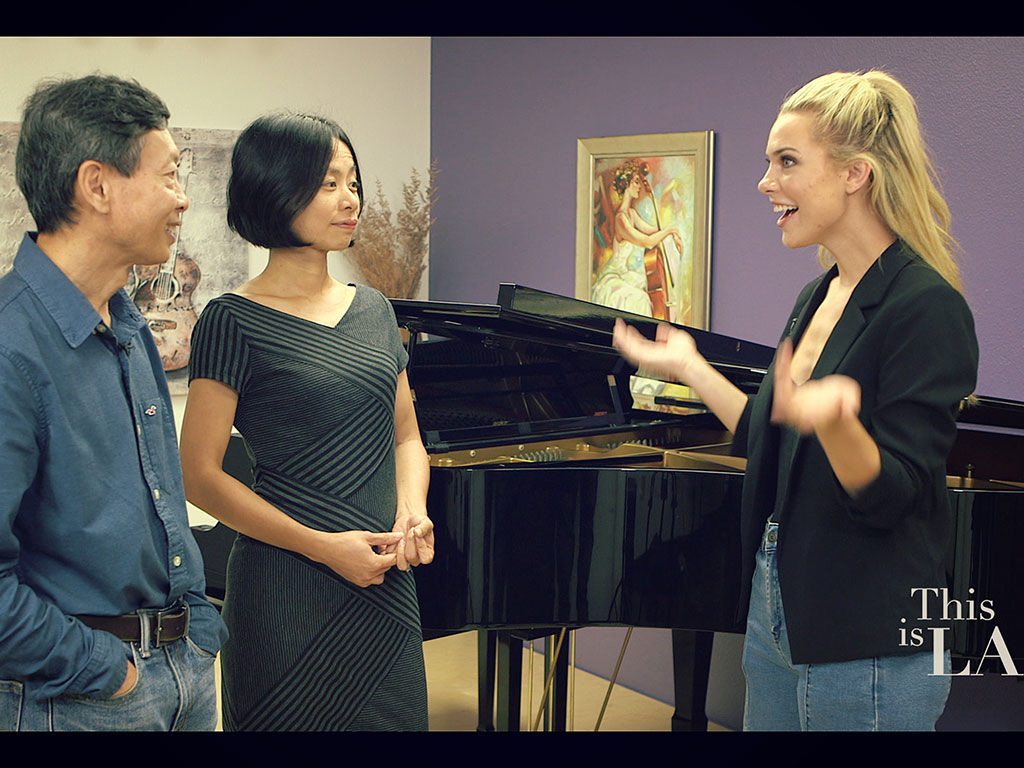 OC Musica's owners on CBS2, "This is LA" EP 319
When you enroll at OC Musica, you open the door to many membership benefits beyond the lesson room, including:
Music and Dance programs at one location

OC Musica offers dance and music lessons for all ages. With this combination you can schedule a music lesson right before or after your dance class with zero commute time. Musician in training but never danced before? Our friendly and encouraging dance instructors create the perfect, non-intimidating atmosphere for you to try out a style of dance!

Professional floating dance floors

Dance is a very physical activity that requires a lot of turning, leaping, and jumping, which can put stress on bones and joints. Most dance footwear does not provide any cushioning or support, so the shock of dance movements can place a lot of pressure on the knees and back of a dancer. The best way to prevent against potential injury is by choosing a studio with a professional "floating floor". A floating floor is a dance floor that rests on a system of high-density foam, to absorb the shock of jumping.

The top layer of the dance floor is also an important factor. A vinyl composite "marley" floor is accepted worldwide as the best surface layer for recreational to professional dance. A marley floor allows dancers to slide, with a degree of "controlled slip", but is not slippery so there is less risk of slips and falls. Very few studios use professional marley floors because of the expense involved, and usually opt for a regular floor tile for a studio floor.

Our studio's floating floors are built with two layers of plywood over thousands of high density foam blocks and finished with a professional marley dance surface. This type of floor is known to helps reduce the risk of injuries and allow students to dance longer without getting tired.

Soundproof facility

We are very serious about creating an environment that is appropriate and suited to learning music. In an ideal music practice or lesson room there should be no other sound heard outside of that produced by the student or teacher in the room. Excessive noise coming from the hall way or from other music rooms can be distractive and make even very well planned lessons less effective. We have taken serious soundproofing measures in the construction of our private class rooms - yes, to keep them 'private'.

Many opportunities to perform
Discounts on tuition fee for family members
A flexible and generous approach to lesson make-ups to accommodate busy families
and much more!
Learn More About Us
Private Music Lessons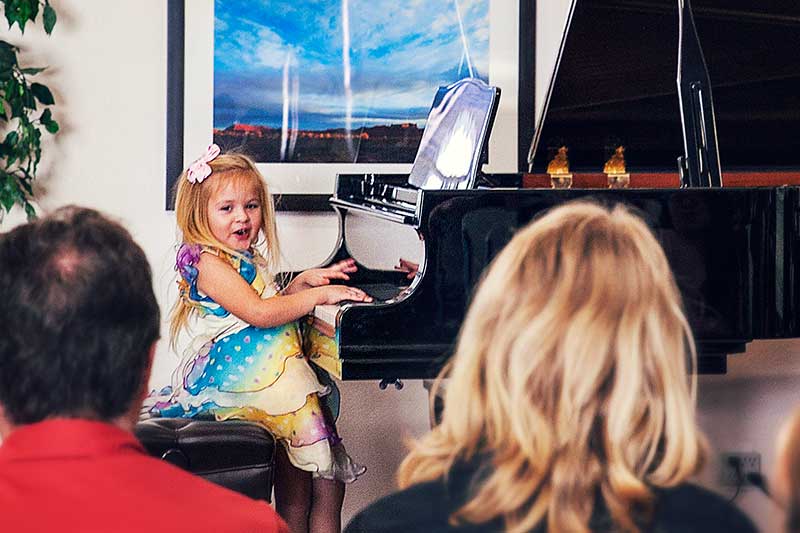 Piano
Our piano teachers have experiece teaching from very young students up to retired adults, and they teach a variety of styles from classical to popular music. Whatever your favorite style of music, our teachers are happy to help you become the pianist you want to be. You will learn the correct technique, fundamental music theory, and sight reading. You do not have to have a piano at home to take lessons. A simple full size electronic keyboard will suffice for the first 6 months. Our piano teachers have warm personalities and enjoy sharing their love for the piano with you.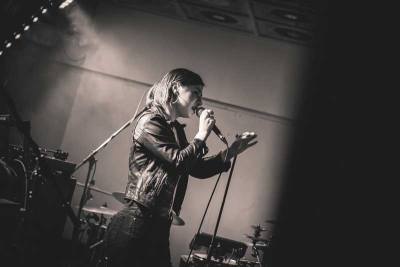 Voice
We teach a variety of vocal styles, including classical, musical theatre, opera, popular music, and song writing. A portion of lesson time each week is devoted to exercises that are designed to help students improve their vocal range, breath control, vibrato, tone production, enunciation, projection, and more. Students will work on expanding their repertoire, selecting their own songs, with the teacher's help and recommendation.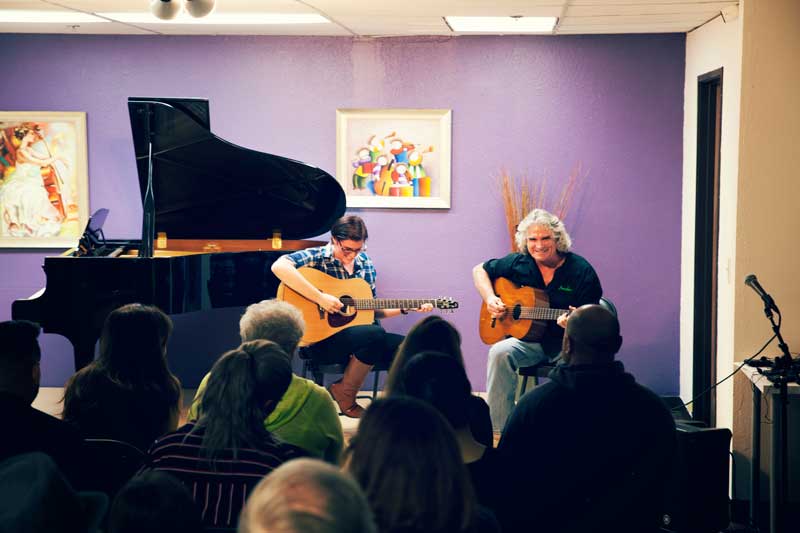 Guitar
Our guitar teachers teach rock, blues, metal, country, bluegrass, and classical guitar lessons on electric and acoustic guitars. Beginner students can expect to work on chords, simple songs and melodies, sight reading, and theory. We balance musicianship and fun by making sure that each lesson you are challenged with a new technical or theory concept, but always end with something fun such as your favorite riff or song. We use a variety of guitar method books to accomplish this and encourage students to bring CDs or their iPod to their lesson to learn their favorite tunes.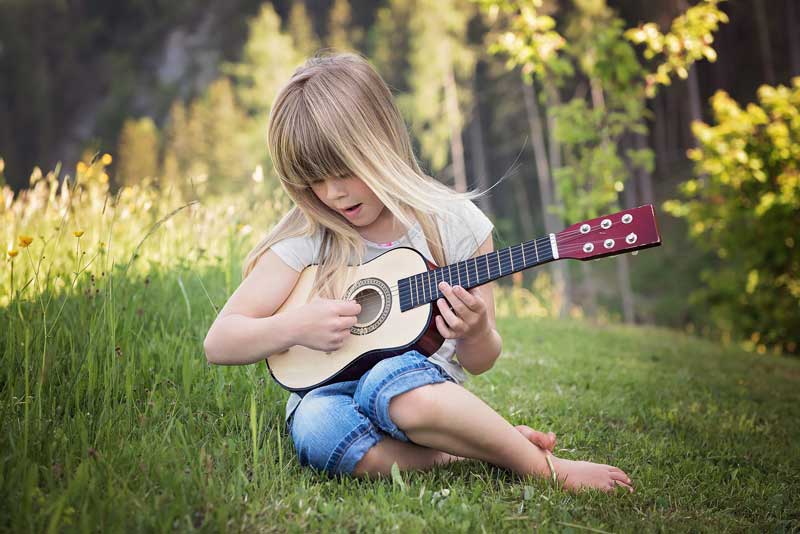 Ukulele
Ukulele is a great choice of instrument for younger children who are interested in learning a stringed instrument. With two fewer strings than the guitar and a shorter fretboard, it can be easier to play. Its nylon strings are also easier on the fingers. Our ukulele teachers will personalize their lesson plans to suit your learning style and preferences.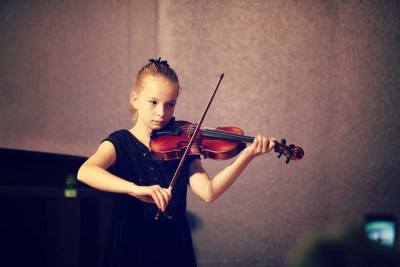 Violin
Our violin teachers are well qualified to teach from beginners up to advanced and adult students. We also have violin classes for children as young as 3 year old using the Suzuki method. Teachers will also work with students who wish to join the school or local orchestra to prepare for auditions.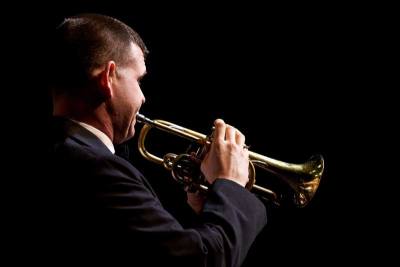 Trumpet
Brass instruments have long been established as an important voice in chamber and orchestral music. They are also fun instruments to learn. Our teachers can show you how to make these sounds and incorporate them into your own music. Every student gets their own tailored lesson plan based on their goals and needs.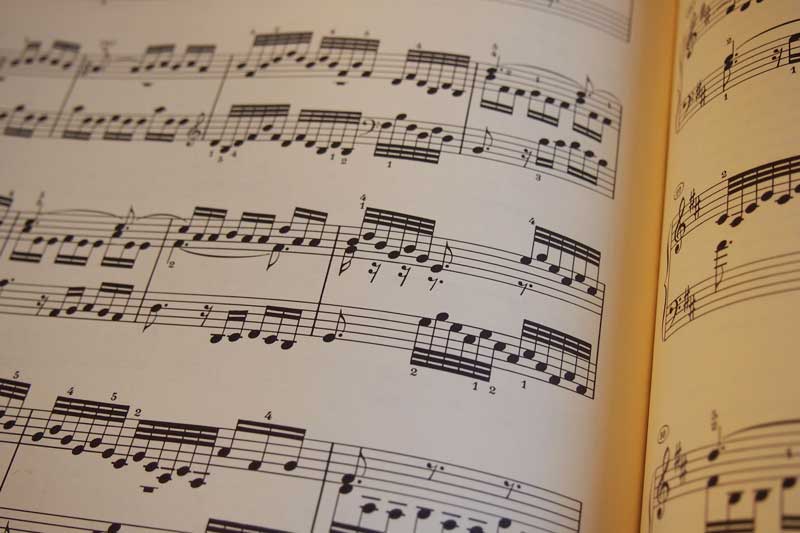 Other instruments
We find that piano, guitar, and violin (besides voice) are our most popular instruments. If something else is your style, say, trombone, bass, etc. we'd be happy to help. Just contact us for more information.
Dance Programs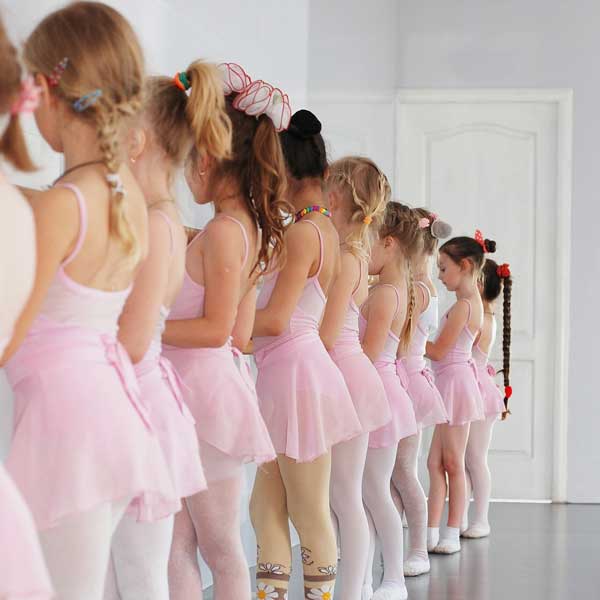 Ballet is the basis of all dance. It is crucial for the development of your dance skill set. Our ballet classes focus on developing a solid ballet technique with emphasis on correct body placement, alignment, proper use of turn out, coordination of the upper body (epaulement), and use of arms (port de bras).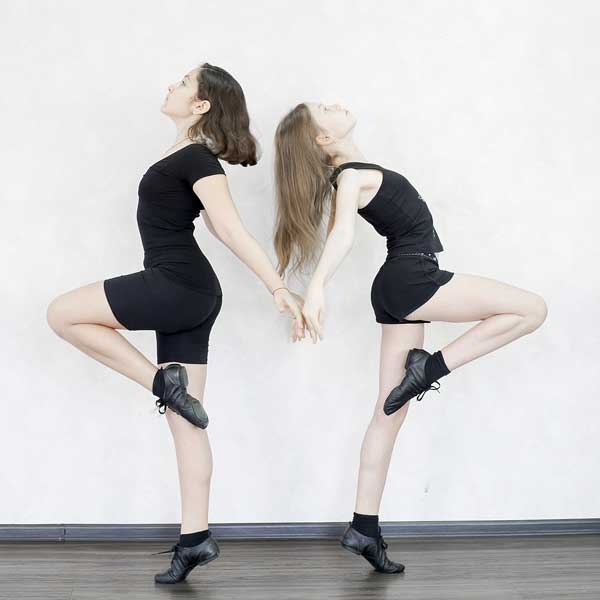 Jazz Dance appeals to everyone because of its energy, variety, and vitality. Jazz Dance classes explore contemporary and classic jazz dance that draws inspiration from a wide range of music including jazz, swing, blues, pop, soul and funk, trip-hop.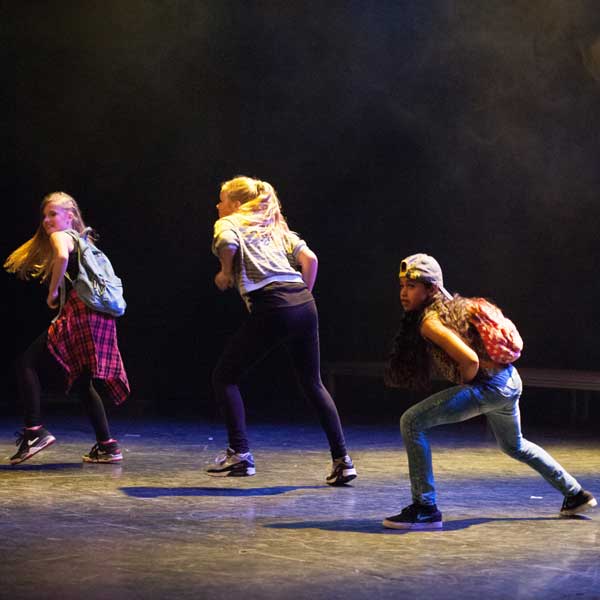 In this fast-paced and fun class students will use hip hop technique to develop their coordination, rhythm, flexibility and self-expression. If you are new to this style, or just looking to "freshen" up your dance moves, this class is for you! Feel comfortable and confident as we dance along to today's hottest music.
Testimonials
What are they saying

Dr. S. Ama Wray
Professor of Dance at the University of California, Irvine
This is a fantastic new center for the performing arts in Orange County. There is a wonderful atmosphere and true understanding of the significance of music and dance education. Bravo!
Lauren Etter
Dance Teacher
OC Musica is a beautiful space. Cuong and Mai put their hearts into its creation, and their love for and support of their community is evident from the moment you arrive. I am grateful to have been able to spend some time there recently when they hosted a training I'm participating in. Thank you Cuong and Mai!